now it is 8 weeks to go to my marathon and I must pick up the shoe for the race.
Unfortunately my beloved
NewBalance RC600 are
too worn-out and totally our of stock in HK, otherwise I would not have doubts...
I happens that I have won 4 wonderful looking shoes at local races that could be suitable for the job (running 42km for a 70kg heel-striker...).
They are all brand new from the box and I do not want to go into testing each of them...
The drawback is that 3 of them are all models for Asian and Japanese market, so it is impossible to find a review for these models on our usual sources...
"Asian fit" models have usually a wider forefoot to accommodate the shape of Asian feet, and it is not a bad feeling also for my "caucasian foot" because gives some extra space when the foot is swollen...
said this, let's see the contestant
A)
MIZUNO WAVE SPACER R3
gorgeous looking black/yellow. 205 grams/7.2oz . I believe it is more suited for neutral runners, but the wave plate is quite solid. Sold only in Japan (Hong Kong is a bit particular market, where East meets West).
B)
NIKE KATANA RACER STAR
shining orange, 215gr/7.6oz. Sold also in USA, but I could not find a decent review on whether they are suitable for a marathon, even if they have a "air" unit also in foresole. Also it seems classified for neutral gait runner (and actually I can not see any specific anti pronation device)
C)
NEW BALANCE RC902MR
pleasant red color, 220gr/7.8oz. They seems also the less "aggressive" of the bunch with a design very similar to the NB RC600. Listed as suitable for pronators (with medial post and stability web). This is also a Japan only model.
D)
MIZUNO WAVE REVOLVER
classic blue/white color. 220gr/7.8oz . They are also listed as marathon shoes for pronators, but a review on runningtimes.com discourages the use for longer race over 15k. I need more double check on them. They also seems more common for US market (while absent from Mizuno European website...)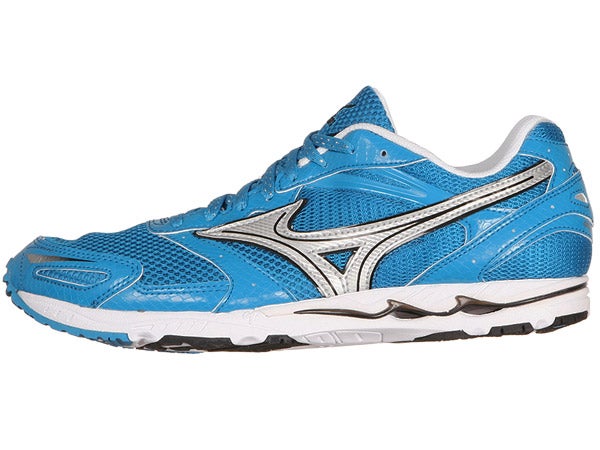 Like in any beauty contest, the line-up of the finalists (Mizuno Wave Revolver was unfortunately stored elsewhere)
Needless to say, they are all "made in China" and most likely made here in Dongguan (Adidas, Asics, Mizuno has their subcontractors in Dongguan, I can not swear for NewBalance, Nike are made most likely in factories in Guangzhou (50km away)). So I support the local economy...